The Winner
Winner of the Week: Adam Sandler as Nick Spitz
Movie: Murder Mystery 2
Where to Watch: Netflix
Why Him?
Unlike some public figures who find success, make their money, and then intentionally fade out of the limelight, Adam Sandler has remained remarkably consistent throughout his career as an actor. In fact, he's been cast in at least one movie or TV series every year since 1993! His latest, Murder Mystery 2, is now on Netflix and delivers the goofy, lighthearted giggles we've grown to expect from him.
From gaining popularity on Saturday Night Live, first as a writer and then as a performer (1990-95), to honing his craft as a dramatic actor in Punch-Drunk Love (2002) and eventually returning to his roots with a stand-up comedy special, Adam Sandler: 100% Fresh (2018), it's clear that he's crushing it. Not to mention his four-movie deal with Netflix worth $250 million that got renewed for even more films! Although his movies are rarely nominated for Academy Awards, viewers love him—which is why we're elated to see him win the Mark Twain Prize for American Humor a couple weeks ago.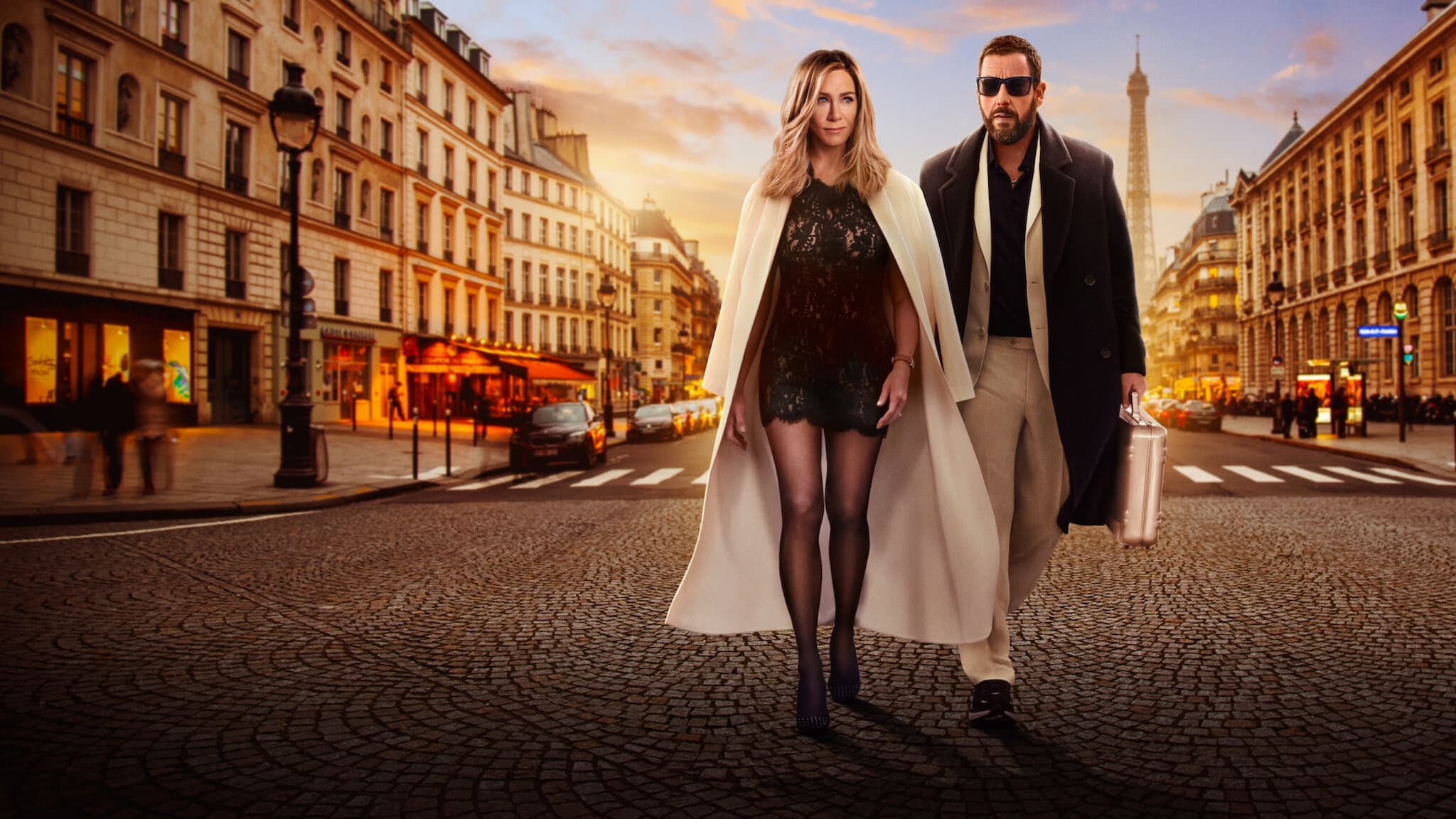 In Murder Mystery 2, Nick (Sandler) and Audrey Spitz (Jennifer Aniston) return to solve another high-profile homicide, this time after their friend is abducted on his wedding day. Despite now having four years of full-time private investigator experience, Nick Spitz still has terrible aim with his gun. Even his alter ego "Nicky Two Guns"—who was responsible for some of the funniest scenes in the movie—couldn't hit a shot. Since he has no chance of defeating the enemy with precision accuracy, the viewer is blessed with some Adam Sandler hand-to-hand combat, which is a pleasant surprise. Although this flick is nowhere near the John Wick: Chapter 4 level of choreography, it makes up for it in the endlessly likable "we're not arguing, this is just how we talk" New Yorker dynamic between Nick and Audrey.
Thanks to the success of Rian Johnson's subversive whodunit films Knives Out and Glass Onion, the murder mystery genre has seen a resurgence in popularity. And naturally, Netflix gets even more of its share of the pie. While some critics are calling the film a "Budget Knives Out," I'd flip it and would argue that Knives Out is a "Budget Adam Sandler comedy."
Interested in watching Murder Mystery 2? Add it to your watchlist here!
Likewiser Reviews:
Jennifer Aniston and Adam Sandler will forever be one of my favorite comedy duos. They did not disappoint in this sequel! - @cheyenne_brundage
Just as great as the first! Comedy sequel at its finest with the best duo! - @daniella_2577
Want to stay in the know about each week's winners? Make sure to read our What to Watch newsletters for the latest on all things streaming!