The Winner
Winner of the Week: Jonathan Majors
Movie: Ant-Man and the Wasp: Quantumania
Character: Kang the Conqueror
Why Him?
First up, a confession: I am not a Marvel Cinematic Universe completist. So far, there are 40 movies in this pantheon of big-budget blockbusters, which you can watch in chronological order or just stream whenever you get a hankering to revisit Robert Downey Jr., the Chrises (Hemsworth, Evans, Pratt), Chadwick Boseman, Elizabeth Olsen, Scarlett Johansson, and the rest of the pantheon of stars do their superhero thing. And don't forget the TV series! With all of that pressure, it can feel like quite a commitment to suss out all the storylines and time shifts and world(s)-saving. That may be one reason why the latest, Ant-Man and the Wasp: Quantumania, may feel like such a dud for those of us who aren't diehard fans. Variety's Owen Gleiberman notes that while "Marvel films have never pretended to be stand-alone entities," he's "rarely encountered a Marvel adventure that's this busy with a do-or-die saving-the-cosmos plot that feels this much like it exists simply to set up the next dozen chapters of something." Great?
Despite Paul Rudd's ineffable charm, I've never quite understood the appeal of his underrated, underseen Ant-Man hero: he can suddenly grow and shrink at lightning speeds! Now, we are entering the MCU's "fifth phase," and this latest movie serves as an important stepping stone into the broader universe. Sounds like homework?
Luckily, one of the most pleasurable parts that one could always count on in these bloated orgies of CGI excess has been the MCU villains. From Thanos (Josh Brolin) to Loki (Tom Hiddleston) and Cate Blanchett's unforgettable Hela (and all the memes), the bad guys are typically worth the price of admission. Now enter Jonathan Majors as Kang the Conqueror. We already got a taste when he appeared as a variant known as He Who Remains in the Loki Season 1 finale, but now he's delivering one of his most deliciously ridiculous performances as one of the MCU's most long standing baddies. And we applaud him for that. Sporting two facial scars (mimicking the lines on the comic book character's helmet) and a permanently quivering lip, Majors chews up the scenery and keeps the flick from being completely dull. We know there's no escaping a cinematic landscape with all these tentpole films (thanks a lot, Kevin Feige), but at least we can look forward to a lot more Jonathan Majors as Kang.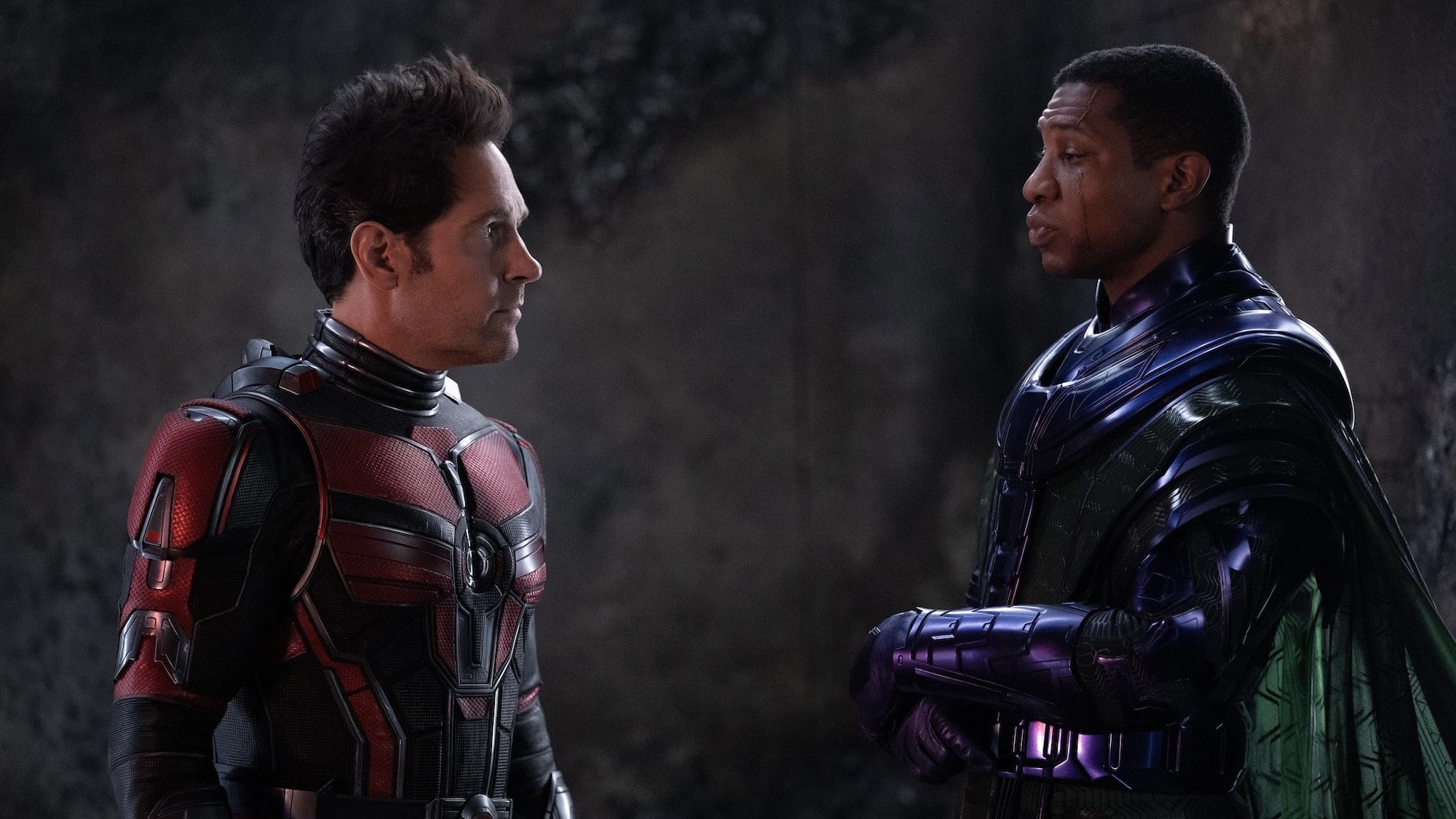 If you're not already familiar with the star's work, he's been racking up plenty of cred over the years. I first witnessed his amazing abilities in the indie film The Last Black Man in San Francisco, which is a moving and unforgettable performance. Then he wooed us as the hero of the short-lived, acclaimed Lovecraft Country (RIP), and now he's transformed into a godlike bodybuilder for Magazine Dreams (which received plenty of critical acclaim at Sundance). Next up: He goes head-to-head with Michael B. Jordan in Creed III.
Interested in watching Ant-Man and the Wasp: Quantumania? Add it to your watchlist.
Likewiser reviews:
I enjoyed this movie, but you have to be up to speed with the MCU. We finally get to see why Kang the Conqueror is a major villain. - @kathleen_caste
While it sheds the comedic heist film vibes that was established from the other two entries, Ant Man and the Wasp: Quantumania trades it for a more experimental vibe by putting our small time heroes for a big time Avenger-level event! Part-Guardians of the Galaxy, part-Star Wars, all of it enhances the vibes of the Quantum Realm and the Multiverse saga! - @ripleydude
Want to stay in the know about each week's winners? Make sure to read our What to Watch newsletters for the latest on all things streaming!