Note: contains spoilers for John Wick: Chapter 4.
The Winner
Winner of the Week: Scott Adkins as Killa Harkan
Movie: John Wick: Chapter 4
Why Him?
Delayed from its original theatrical release date of May 27th, 2022, the long-awaited John Wick: Chapter 4 recently hit theaters and made one thing inarguably clear–it was worth the wait. This bullet-riddled love letter to fans has everything one could ask for in a John Wick entry: engaging action sequences, memorable characters, smooth choreography, and undeniably high stakes. This fourth film has proven to be a gratifying–yet bittersweet–finale to the solemn hitman's arduous, years-long journey (or has it?) and has blown away even the most gratuitous box office expectations with its opening weekend boasting $73.5 million in sales (for reference, the original John Wick's opening weekend saw only $14.4 million).
Unsurprisingly, John Wick: Chapter 4's success is due in part to the amazing performances that give life to the colorful cast of psychotic ne'er-do-wells populating the franchise's criminal underworld–many of whom are made almost too likeable by the actors depicting their various crimes. Fans of the series will recognize performances from stars such as Ian McShane as Winston Scott, Ruby Rose as Ares, Common as Cassian, Bill Skarsgård as The Marquis, and more. Enter: Scott Adkins as the washed-up cardplayer, Killa Harkan.
"The moment you sat down at my table you already lost."
In the fourth chapter of the series, John Wick disposes of hitmen and assassins all the way to Germany, leading him to an encounter with one of the High Table's big bads: Killa. Unlike other notable showdowns in the franchise, the duo's confrontation starts off with a simple game of poker meant to decide the protagonist's fate. However, this being a John Wick movie, the game takes a turn for the worst and results in a characteristically violent end for Killa. Ultimately, Killa's bold gamble wins him the payout of a merciless beatdown from Wick, thus ending the crime lord's time on screen.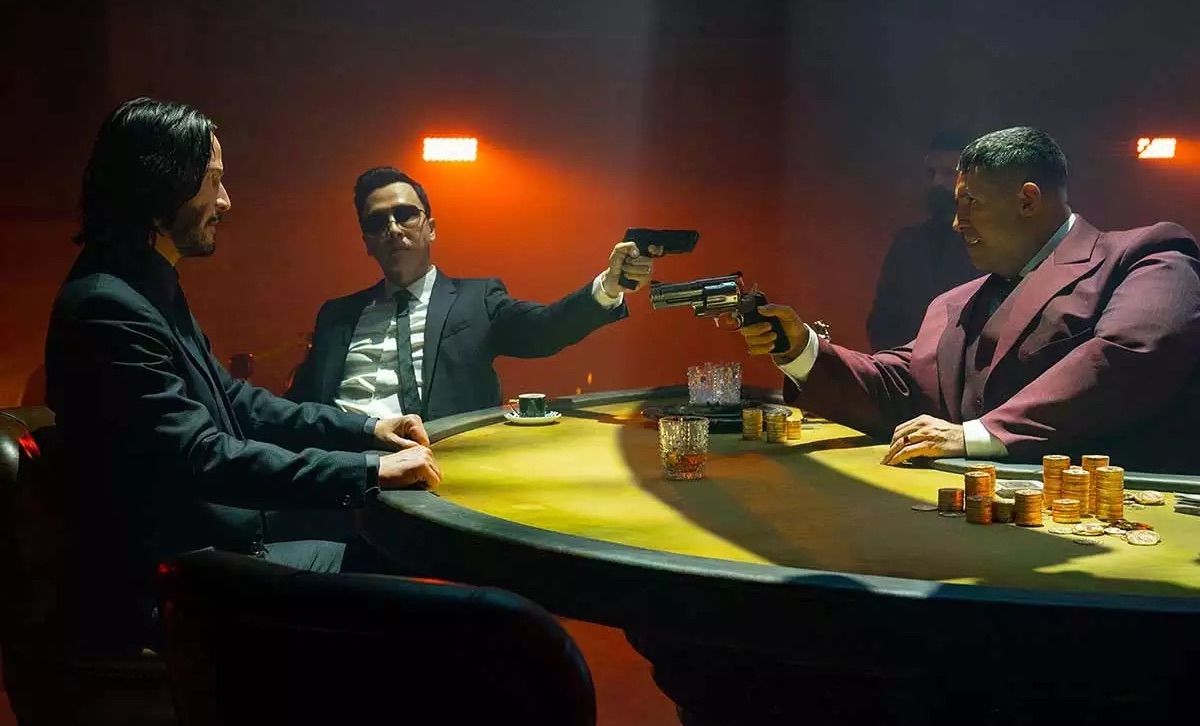 Scott Adkins' portrayal of Killa was a demanding one. The hefty use of restrictive, weighty prosthetics (reminiscent of Colin Farrell's role as the half-silicone-half-man Penguin in The Batman) mixed with the nuance of portraying a threatening presence through a comic relief character serves only to highlight Adkins' mastery over his craft. Despite its brevity, Killa's time in the film left no single second wasted and captivated audiences and critics alike–winning Adkins a spot on our Winner of the Week roster.
Interested in watching John Wick: Chapter 4? Add it to your watchlist here!
Likewiser Reviews:
This movie has without a doubt the best action sequences and most interesting set pieces I've ever seen. The choreography and stunt teams are incredible… The amount of action packed into the 2 hour 49 minute runtime is unmatched. It feels like they took the best moments of 10 different movies and shoved all of them into one. - @heynarwhal
A great action flick! Despite its longer runtime, it never feels wasted and it breezes by very quickly. This is easily one of the best action franchises of all time, and probably the only one (apart from MISSION IMPOSSIBLE) where the bar is raised higher with each subsequent release. Great stunt sequences as always, as well as great cinematography, costumes, and performances. - @aditya_7055
Want to stay in the know about each week's winners? Make sure to read our What to Watch newsletters for the latest on all things streaming!